通讯作者

Yasunori Hayashi
Introduction:
Systems consolidation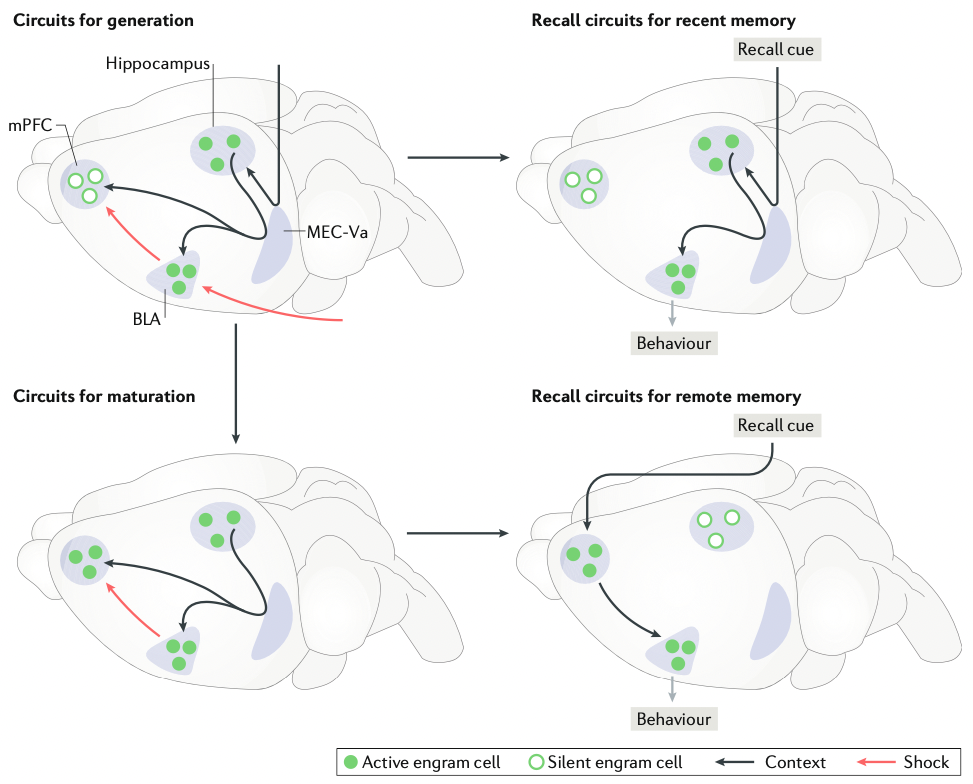 Synaptic plasticity.

Early phase of sLTP –> rapid polymerization of actin –>enlarge their structure.
Low cofilin(CFL) –> F-actin disassembly
High cofilin –> cofilaction –> stabilizing F-actin
In the CA1 region of the hippocampus, LTP is initiated by the entry of Ca2+ through NMDA-type glutamate receptors (NMDARs), which triggers the translocation of specific proteins to the synapse, including AMPA-type glutamate receptors (AMPARs; Hayashi et al., 2000). This early phase of LTP (E-LTP) requires the rapid polymerization of actin and the activation of Ca2+/calmodulin-dependent protein kinase II (CaMKII; Okamoto et al., 2009).To further consolidate E-LTP into the late phase (L-LTP), the synthesis and transport of new proteins into potentiated synapses are required (Kelleher et al., 2004).
Results:
光遗传消除sLTP
MNI-glutamate (12 mM) was then applied locally from a glass pipette positioned close to the selected dendrite. Repetitive (1 or 2 Hz) photolysis of MNI-glutamate was performed on the specimen at a 720-nm wavelength with a pulse-train duration of 0.6 ms and a power of ∼5 mW.

—-Matsuzaki, Masanori, et al. "Structural basis of long-term potentiation in single dendritic spines." Nature 429.6993 (2004): 761-766..
As the filaments treadmilled, nonactivated PAGFP-actin took the place of activated PAGFP-actin. Eventually, the activated PAGFP-actin reached the end of the filament, depolymerized, and diffused away.

—-Honkura, Naoki, et al. "The subspine organization of actin fibers regulates the structure and plasticity of dendritic spines." Neuron 57.5 (2008): 719-729.

Time window of optical erasure of sLTP
在sLTP后10分钟和30分钟仍然可以使其消退,但是-1或者50min则不可以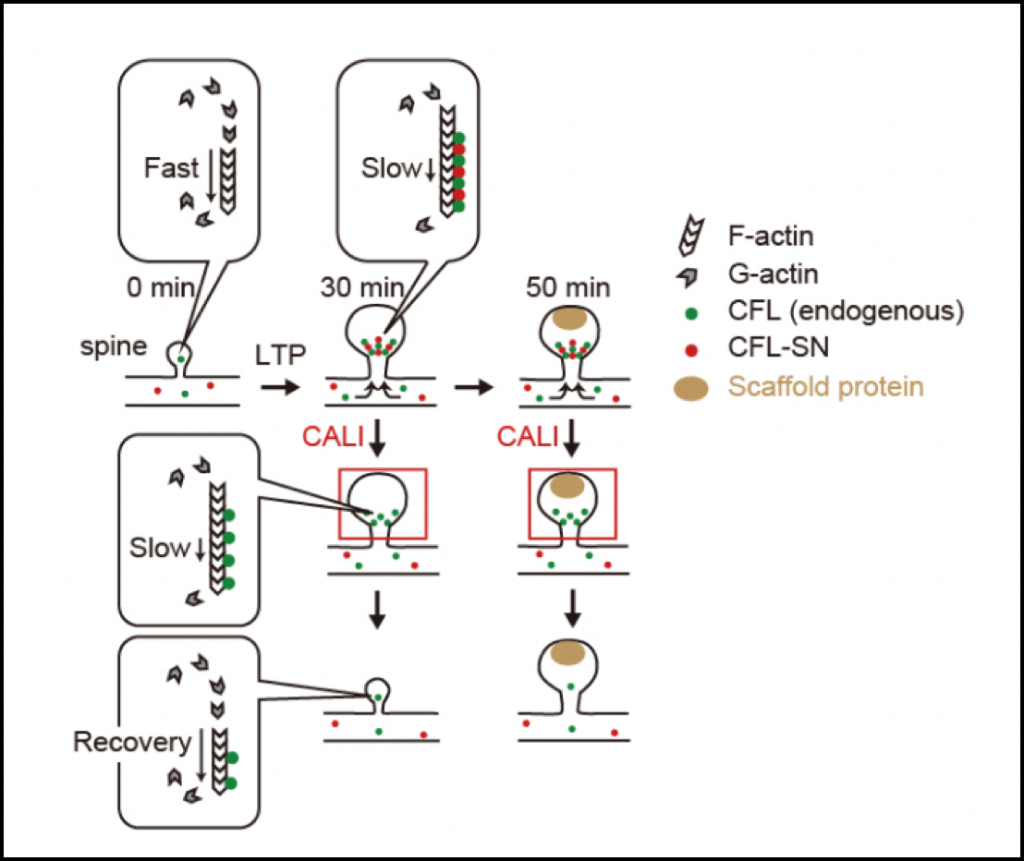 在一定时间窗口内光遗传消退LTP损坏情景特定记忆
在shock后20分钟内可以损坏记忆,在shock前一分钟或者shock后一小时不会有影响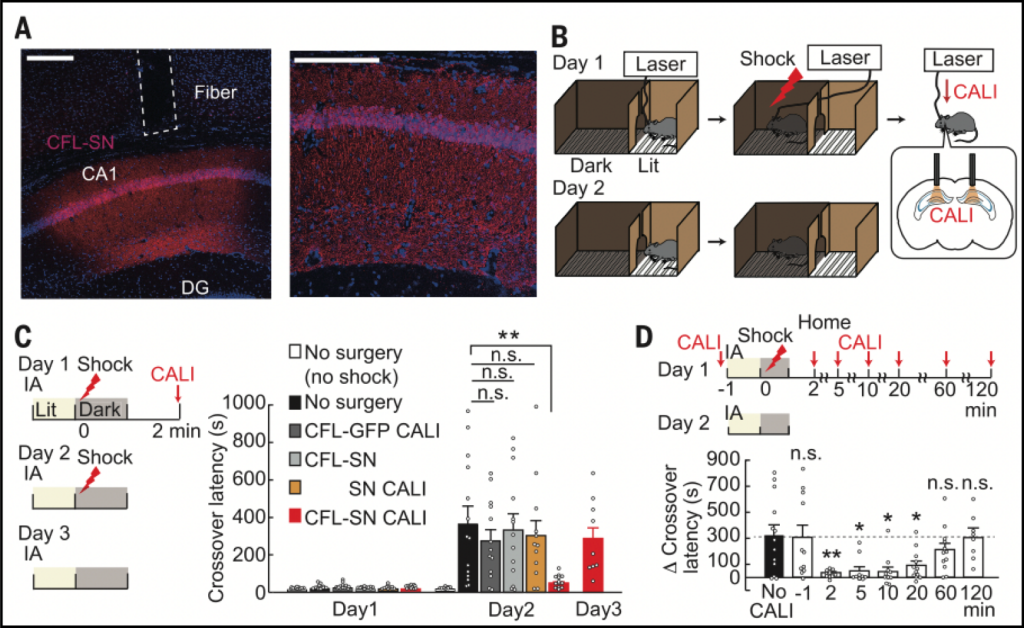 在睡眠期间消退LTP也会影响记忆

在后一天ACC消退睡眠阶段LTP影响记忆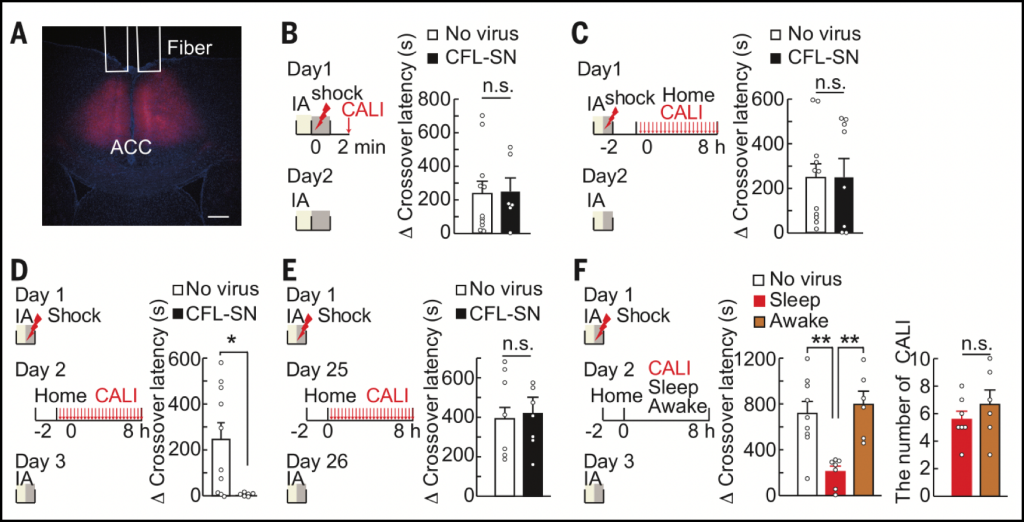 参考文献

Goto, Akihiro, et al. "Stepwise synaptic plasticity events drive the early phase of memory consolidation." Science 374.6569 (2021): 857-863.